Video Door Phone (VDP)
WATCH VISITORS FROM THE COMFORT OF YOUR COUCH
If you would like to know who's at your door even before you open it, video door phones are your ultimate security solution. Widely used in homes, apartments and businesses, they've proven themselves to be reliable and crime resistant. Switch to a more secured way of living with an assured safety solution.
As we know that the Best video door phone is the VDP which is available in the market with clear sound and picture with intercom systems. Video door phone mainly consist of two units. One is outdoor unit and another is indoor unit. The outdoor unit can be mounted near to your home door outside the house, villa or apartment. This unit has the facility of ringing bell.
Your guest can come and ring the bell. The indoor unit bell of Video Door Phone will rang and you will be able to see the live video of the people standing in front of outdoor unit. With inbuilt intercom system you can talk with the person standing outside. The indoor unit of the Video Door Phone allow you to see and speak with the person standing outside. You can control electronic door lock with the help of indoor unit. No need to go outside the building to open the door just press the button from the indoor unit and open the door. Its a complete touch screen monitor. This is the best quality Video Door Phone VDP available in the market. Sell this to your customers or have it installed in your house.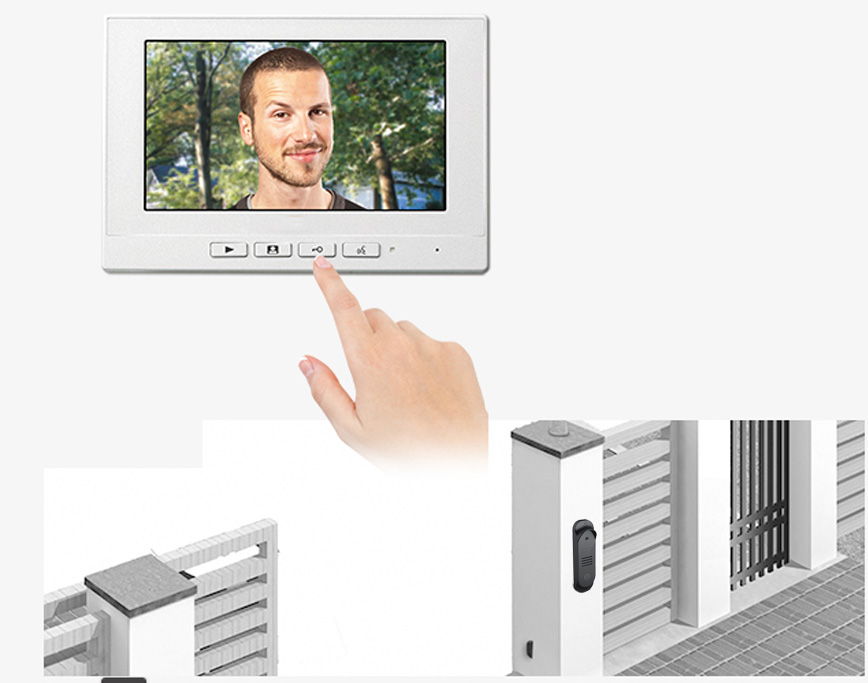 Video door phones are the technological advanced products in the cluster of home automation. Video door phones are widely used all around the world for their home guard. Keeping track of our beloved ones gets tougher especially, when it comes to children and aged people. Physical protection is not a solution in this fast moving world. This is where AMITEK video door phone (VDP) plays a major role. These video door phones can be attached with the fingerprint sensors to provide access control to the family members and known people who have access to the house.
Our VDP integrated with CCTV cameras, for an extra eye for your house can assure you of double security which in turn, gives you a peace of mind.
---